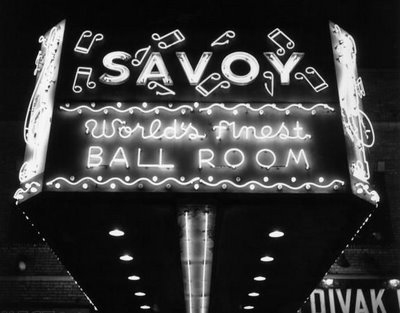 The title of the beloved swing standard "Stompin' at the Savoy" refers to the Savoy Ballroom in the Harlem originally taking up the entire block on Lennox between West 140th and 141st Streets where the Savoy Apt. complex now stand. Incredibly that was our NYC address during the writing of "New York Stories" something I didn't realize until running for the milk one morning and spotting the plaque in front of the apartment complex!  Now maybe thats why the swing music kept infiltrating my dreams at night leading to the writing of so many "old school" style tunes on New York Stories!
The plaque reads: "Here once stood the legendary Savoy Ballroom, a hothouse for the development of jazz in the Swing era. Visually dazzling and spacious, the Savoy nightly featured the finest jazz bands in the nation, and its house bands included such famous orchestras as those of Fess Williams, Chick Webb, and Teddy Hill. The great jazz dancers who appeared on its block-long floor ranged from professionals like Whitey's Lindy Hoppers to everyday Harlemites. During a time of racial segregation and strife, the Savoy was one of the most culturally and racially integrated of institutions, and its fame was international. It was the heartbeat of Harlem's community and a testament to the indomitable spirit and creative impulse of African-Americans. It was a catalyst for innovation where dancers and musicians blended influences to forge new, wide-spread, and long-lasting traditions in music and dance. Whether they attended or not, all Americans knew the meaning of "Stompin' at the Savoy." 
 The song itself  features a melody written by Chick Webb's saxaphonist Edgar Sampson and a lyric by Andy Razof (best known for his collaborations on Honeysuckle Rose and Ain't Misbehavin' with Fats Waller). "Stompin At The Savoy" was introduced to the public by Chick Webb's band featuring vocalist Ella Fitzgerald who gave the song it's first fame.
Here is my favourite version of the song recorded many years later in a  duet version by Louis Armstrong and Ella Fitzgerald!